Icon for Dance Marathon 2007; Many Hearts One Home
THON Spirit; State College, Pennsylvania 02.2010
If there is one thing that I encourage you to do during your academic years at Penn State – Be a part of THON! THON is easily the biggest programming event that goes on at PSU or Penn State. THON is the more common name for the Interfraternity Council/Panhellenic Council Dance Marathon. In fact, it is anticipated that well over half of Penn State undergraduates participate in some way during their stay at PSU. The following paragraphs will give you an introduction, but it is like trying to summarize a huge novel in a few short paragraphs. I suggest you partake in this event at least one time in your life! THON is a great representation of how a community can come together and focus on one single objective –this is For the Kids (or FTK as it is more commonly known)!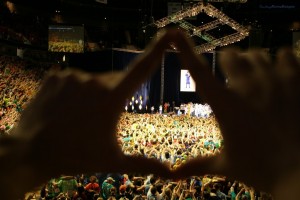 Four Diamonds Symbol; State College, Pennsylvania 02.2010
So what exactly happens with THON? The largest event at Penn State is held in February every year and is a 48-hour dance marathon (although this was shortened in 2007 to 44 hours; when I attended PSU it was 48 hours). THON is the largest student-organized philanthropy in the world. Specifically, all money raised goes towards the Four Diamonds Fund; money in this fund goes towards finding a cure for pediatric cancer and helping the families of children with cancer. What are the Four Diamonds Fund and the story behind it? The Four Diamonds Fund is named after a fairy-tale that Christopher Millard, a young teenage boy, wrote. In Christopher's story, a knight must find the four diamonds of Courage, Wisdom, Honesty and Strength in order to be released from captivity by an evil sorceress. The four diamonds are representational of the traits Chris believed were necessary to defeat cancer – he lost his battle with cancer at the age of 14. The Four Diamonds Fund has provided over 2,000 families, mainly from the Central Pennsylvania area, but also from nearby states. One of the best features of the Four Diamonds Fund is that it welcomes 100 new families to receive support from the Four Diamonds Fund each year. The mission of The Four Diamonds Fund is to conquer childhood cancer by assisting children treated at Penn State Hershey Children's Hospital and their families through superior care, comprehensive support, and innovative research.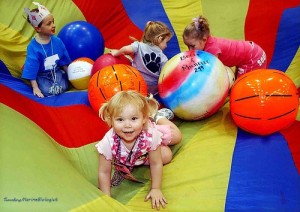 Kids Smiles; State College, Pennsylvania 02.2007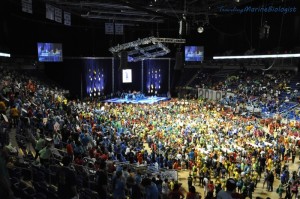 Bryce Jordan Center Marathon Dancers; State College, Pennsylvania 02.2010
THON is one of the biggest community events that feature thousands of college students, a full-fledged dance marathon, and loads of kids with pediatric cancer. Every year respectable organizations, such as sporting team, clubs, and Greek organizations all raise money for kids with cancer. You may have witnessed me and my sorority sisters, Phi Mu, during several times of my undergraduate studies – we were standing in the blistering cold asking politely for the local community to support our cause. Not only was this a great excuse to be really active, but this event brought your organization a lot closer. Does not matter which organization you represent – the common goal is to raise money for kids with cancer.
Love Belongs Here; Symbol of Four Diamonds Fund
My first time in Philadelphia was three weekends before THON. A half dozen of my sorority sisters "canned" at your local supermarket. In other words, during 4 weekends a year we stood on various corners of Northeastern Pennsylvania and held cans asking courteously for donations for our big event. There was 4 inches of snow on the ground combined with your occasional rain showers – it was your "typical" Pennsylvania winter day. Though my sisters and I were freezing, the warmth that helped us get through our 4 hours of canning were the bright smiles of our THON child (she was under the age of 8) and all of the other hundreds of happy children (ages varied from 6 months to 18 years old) cheerfully dancing around. THON allows a "kid to be a kid" – this event encourages kids to forget about their worries and pain; this is the time that they shine where they are not concerned with their daily pediatric appointments and hospital visits! In result, this takes their mind off of their illness for a bit and the thousands of supporters always manage to keep a smile on their face! Kids are free to roam the Bryce Jordan Center without a fear in the world – their mission for the weekend is to live in the moment. Tomorrow is a new day.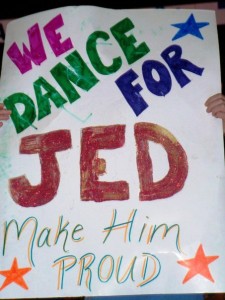 Poster Support; State College, Pennsylvania 02.2007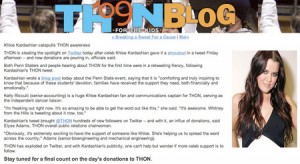 Khloe Kardashian's Latest Tweet
The other pillar of the event is the dancers themselves. The event is notorious for raising several million dollars annually – the kids are welcomed by their own personal fan club several thousand's of Penn State students, along with PSU alumnae, kid's parents, and on occasions various celebrities. Recently, Khloe Kardashian tweeted about the event and helped spread the word about this fantastic cause. THON is one of the largest Dance Marathons – Penn Staters earn the right to become dancers at THON by actively participating in fund-raising efforts around the region. Thus, a minimal quota must be raised by each dancer to earn the title of a "THON Dancer." These selected dancers spend the entire THON event on their feet – they must remain on their feet the whole weekend, the dancers are NOT allowed sit down at all! The point? It is an attempt to permit us (many of whom are lucky enough to have never undergone such a disease at such a young age) to understand their condition a tiny bit by subjecting ourselves to hardship. THON is definitely a very emotional sight (especially the last 4 hours) – there are tributes to the children that, sadly, lost their lives to cancer at a very early age (my first THON child was reflected upon), and many of the children that come visit are without hair due to chemotherapy. As will be pointed out at THON, the dancers, and all their supporters are able to go to bed and put this behind them on Sunday night; the children are not that fortunate. An emotional event indeed, THON is simultaneously a lot of fun and a heart-wrenching event.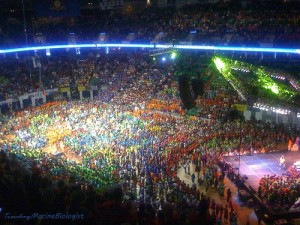 THON Madness; State College, Pennsylvania 02.2007
THON is a huge event, and this short summary could not possibly do it justice. Please check out the "THON" website, do be a part of this cause, and actively involve yourself in next year's THON. FTK!